Your risk of getting the flu or a cold increases as your body temperature gradually falls. Dealing with the cold winter weather can be challenging for anyone. While a jacket can keep you warm, it may be too bulky for everyday wear at home. If you're a fashion enthusiast, it might not pair well with your other clothing. These jackets can also feel too warm in the spring and autumn. Luckily, you can consider wearing a heated vest to stay warm without the bulk, providing both comfort and style.
When it comes to heated vests, one brand that stands out is iHood. They offer a range of stylish and functional heated vests that not only keep you warm but also complement your fashion sense. With an iHood heated vest, you can effortlessly navigate the cold weather and stay cozy without compromising on style.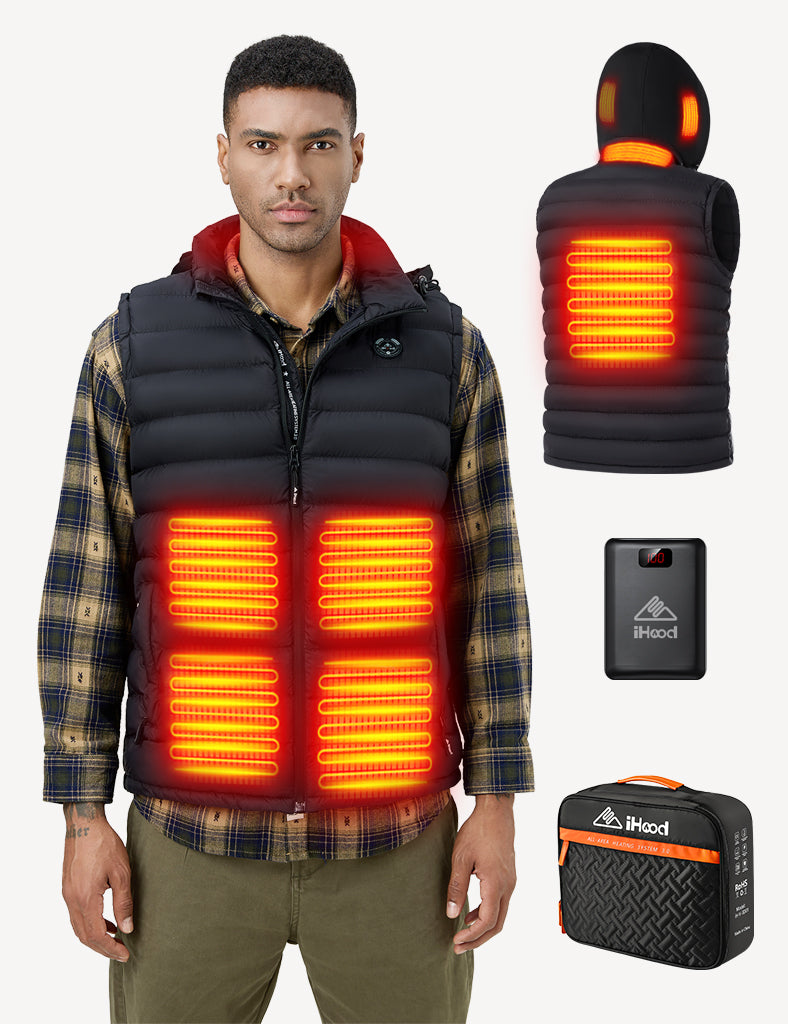 Performance and Features of the iHood's Heated Vest
Some of the most crucial aspects to take into account when selecting a heated vest are its effectiveness and practicality. Temperature, heating rate, a technique for modifying temperature, capability to control the heated area by area, along with the capacity to meet the most crucial need of maintaining comfort.

What circumstances lend themselves to the effective use of the heated vest? When layered with other clothing, will it add bulk? Can you use it for formal events or outdoor pursuits like hunting? Heated vests are a great option for continuing warm while maintaining a low-key; they are easier to use than heated jackets. Visit here to get more detailed information about the heated vest.

Comfort of Heated Vests

Heated vests provide better heat retention as opposed to typical coats and vests, and they provide a broader spectrum of motion compared to heated jackets. As a consequence, convenience is a major factor when contrasting heated vests. The vest's weight, battery weight, and charging method have all appeared as significant variables when considering how user-friendly the vest is.

Warmth Retention Effect

The warmth retention effect that they offer is one of their most noteworthy benefits. These vests are constructed with cutting-edge warming components that evenly spread warmth all over the body, offering a powerful way of conserving body heat. The innovation used in heated vests renders sure that the warmth remains for the individual wearing it and is not lost to the surroundings, keeping them warm even in chilly weather.

Rapid Heating

Heated vests, as contrasted with conventional heating techniques, are capable of warming up swiftly and provide immediate warmth from the cold. When instantaneous warmth is needed, such as during unexpected decreases in temperature or when participating in outdoor pursuits like hiking, skiing, or camping, the rapid heating feature can be particularly advantageous. Rapid heating facilitates practical for people to quickly adjust to changing weather conditions, which boosts their whole outdoor expertise.

Waterproof Performance

Since many contemporary heated vests are constructed of water-resistant or impermeable materials, they are ideal for adventures in wet or rainy conditions. In spite of maintaining the wearer dry, the waterproof characteristic includes the life of the vest by shielding the interior heating components from moisture. This level of protection enables people to take part in outdoor pursuits without being concerned that their heated vest will be impaired by snow or rain, making it an effective and permanent choice in different kinds of climates.

What Makes an iHood Heated Vest Best?
With an extensive list of characteristics that make it truly remarkable, the iHood Heated Vest stands out as an exceptional choice in the world of heated clothes. The iHood Heated Vest's innovative features and unrivaled experience for users make it among the finest in its class. 
Advanced Heating Technology
Some of the considerable things in heating technology include:

Heating Elements Performance

First off, the vest has innovative heating elements that guarantee swift and even heating throughout the entire fabric. The outstanding efficacy of the heating elements is one of the primary variables determining this breakthrough invention. These parts, which often originate from innovative substances like carbon fiber or wires made of alloys, have the goal of producing heat swiftly and efficiently.

Uniformity

These innovative heated vests can be identified by their consistent heat distribution. The heating elements are specifically placed throughout the vest's surface through mindful engineering and design. This uniform distribution hinders cold spots and makes certain ongoing warmth all around. These vests offer an equitable pleasant heating experience by maintaining some areas from excessive heat and keeping others warm.

Energy Efficiency

Energy efficiency is one of the most significant characteristics nowadays of heated vests, alongside outstanding durability and consistency. These vests have environmentally friendly heating elements and advanced temperature control systems. These vests optimize the consumption of energy by changing the heat output based on the present situation.

For fans of the outdoors and people who frequently interact with adverse conditions, the long-term reliability of heated vests is essential.

High-Quality Materials

The use of premium materials is one of the primary variables strengthening their durability. The durability of these materials, which promises that the heated vests remain unchanged even during requesting outdoor activities, was meticulously considered when choosing them. The genuine material must be of an impartial kind, unable to short-circuit the heating device or spark a flame. Ordinary Cotton and Woollen materials are being utilized until these issues are resolved properly.

Manufacturing Process

There are several crucial steps in the vest-making process. Initially despite a shortage of variety in vest designs, innovation in design focuses on improving fabric designs. For new designs, sampling is crucial and should include fabric and vest samples. The main manufacturing method is knitting, and knitted fabric is necessary for vests. To retain control over fabric quality, material transportation, and expenses, vest manufacturers frequently set up their own knitting facilities.
One of its primary applications is for outdoor activities, where it offers the necessary warmth during chilly weather.

Outdoor Activities

The iHood heated vest makes sure users stay warm and cozy while participating in outdoor activities like hiking, camping, or just taking a relaxing stroll. This enables users to take full advantage of what they do without being restricted by the cold.

Winter Sports

Athletes and players are able to perform at their highest level even in frigid conditions due to the vest's advanced heating technology, which guarantees swift and efficient heat distribution. As a result of the vest's advanced heating technology, heat circulates rapidly and evenly, keeping athletes and supporters comfortable and agile.

Work

The iHood heated vest is also extremely helpful in many different kinds of workplace settings. For experts who are employed outside for an extended amount of time, such as construction workers, park rangers, or law enforcement officers, staying warm is essential for protecting focus as well as efficiency.
Brand Credibility and Customer Support
The iHood heated vest stands out not only for its innovative features and multiple applications but also for its outstanding degree of brand credibility.

Customer Support

iHood emphasizes customer service over all else in spite of offering high-quality products. The company is dedicated to providing top-notch support, and its expertly trained customer service representatives are available to help clients with any questions or issues they could possibly have.

After-Sale Services

Even after the sale, the brand offers reliable assistance because it understands the significance of continuing customer satisfaction. IHood's after-sales service renders sure that customers receive immediate help, repairs, or substitutes as needed if issues with the heated vest arise after buying it. This commitment to after-sales service promotes customer loyalty and trust, boosting the brand's standing in the competitive marketplace.

Warranty Policies

The warranty policies of iHood represent its ongoing commitment to satisfying clients. Customers' belief in the product's quality and durability is increased by the inclusion of straightforward and unambiguous warranty terms which make it clear what entitlements they have and the extent of the coverage.
How to Choose the iHood Heated Vest That's Right for You?
Wearing heated apparel, as opposed to adding more layers, is the best way to stay warm on chilly winter days. In regions of the garment where you lose the most heat, a heating component is woven into the fabric and typically powered by a rechargeable battery. You'll be able to stay warm even in freezing temperatures and take delight in the journey as a result! There are numerous considerations to take into account when it involves an iHood heated vest. 
Your heated clothing needs to suit you comfortably. With a heated vest or jacket, it can be even more crucial because a tight fit will trap the heat inside.  In order to ensure that their heated vests provide not only exceptional warmth but also a specific and comfortable fit, iHood emphasizes sizing accuracy and offers a wide range of options. This enhances the entire user experience for individuals of all shapes and sizes.
Some of the added characteristics of iHood's heated vest are the following;
Adjustable Temperature
Those who wear them can customize their comfort according to their tastes and the weather due to the adjustable temperature settings, which is one of their distinctive characteristics. Users may modify the heat degree of the vests using their obvious controls, leading to an appealing and customized experience. 
Battery Life
Similarly, iHood heated vests have batteries with a long lifespan which allows customers to take advantage of warmth for a longer duration of time without having to constantly recharge them. Wearers can remain warm throughout their outdoor activities or shifts at work without disruption because of the advanced lithium-ion batteries constructed into these vests.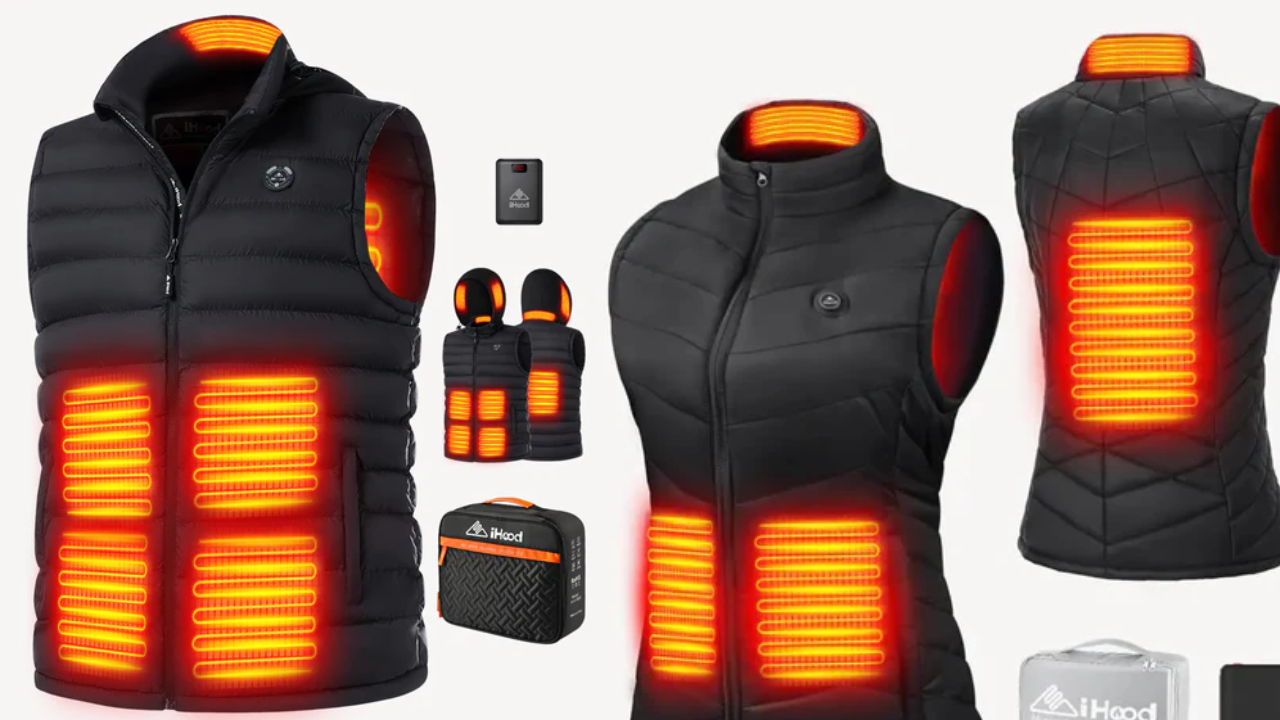 For the upkeep and protection of iHood's heated vests, some steps needed are:
You have to strictly adhere to the care instructions provided if you want your heated vest to serve you for a long time and operate at its best. iHood heated vests can usually be washed in the machine, but it is advisable to take out the battery and the heating components first. The vest can be carefully washed in cold water with a gentle detergent on a sensitive cycle. Avoid employing fabric softeners or bleach as these substances might damage the vest's materials. To keep the vest's form and trustworthiness after washing, it is recommended to air dry it smoothly. 
Your iHood heated vest must be maintained properly in order to stay functional and last for an extended period of time. It's most effective to maintain the vest out of direct sunlight and in a dry, cool place when it's not in use. Stay away from folding or compressing the vest excessively because doing so may damage the heating elements and impact how well they work. 
To maintain the vest's shape, hang it on an altered hanger. In order to prevent any potential problems associated with battery drainage, think about eliminating the battery and heating elements if you need to store the vest for a long duration of time. 
In conclusion, the iHood Heated Vest stands out as an excellent option because of its innovative technology, legendary convenience, reliability, and practical design. The most suitable choice in thermal technology products in 2023 will undoubtedly be the iHood heated vest, which offers unrivaled comfort and warmth during the cold months. This vest's innovative heating technology ensures swift and even heat distribution, providing users with immediate warmth. Because of its many applications, it is ideal for outdoor activities, winter sports, and a variety of work settings.  
1. How Long Does the Battery in a Heated Vest Last?
A number of factors including the model and usage, a heated vest's battery life may vary. The vast majority of heated vests usually provide 2 to 8 hours of warmth on a single charge.
2. What are the Cleaning Instructions for the Vest?
iHood heated vests can indeed be washed in a machine. But earlier than you wash, be certain to take out the battery and heating elements. To keep the Vest's influence and functionality, cleanse it in cold water with a water-based detergent on a gentle cycle, and air dry flat.
3. How Heated Vest Be Safe While Practicing Activities of Skiing or Hiking?
iHood heated vests can be utilized while participating in a variety of physical activities and were developed with safety in mind. They have been constructed of strong materials that can withstand demanding outdoor adventures and are portable, allowing for freedom of movement.
4. Is it Possible to Wear the Heated iHood Vest Across Additional Layers of Clothing?
iHood heated vests can be worn peacefully under additional layers of clothing because they are made to be incredibly light and thin. They are flexible and appropriate for the weather because of this characteristic.
5. How are Heated Vests Recharged?
To maintain the heat in the clothing longer, most heated clothing has a battery that can be charged. The battery life of heated clothing is also displayed on an LED display on a scale from 1 to 9. You will then be informed when to charge your battery.