When the temperature drops and you must keep warm, saying hello to a heated jacket, a practical piece of equipment becomes compulsory. Let us explore the benefits, working principles, and caring tips for selecting the best-heated jacket that will keep you cosy during the winter season.
Learning About Heated Jackets
The cutting-edge garments that are specially designed to provide comfort and warmth in cold weather are called heated jackets. Advanced technology has been incorporated into these jackets in the form of heating elements that result in distributing worms throughout the jacket and ensuring that the person remains cosy.
There is no need to pile on layers of sweaters that make no difference but make you a walking snowman. This is where a heated jacket comes to rescue you and ensures that you are feeling comfortable as well as warm. The heated jacket contains heating elements that are typically thin and flexible pads made from conductivity materials like carbon fiber.
In the places where more heat is required like the chest, back, and pockets, these heating elements are placed. The most important thing to understand is that these elements are connected to a power source that can be easily stashed on the heating jacket. The wearer is given control to adjust the heat output and can also go ahead with customization to meet his comfort level.
You will even find smart technology in most of the advanced heating jackets and you can control the heat output by using your smartphone app hence a high degree of control and precision is provided. In simple words, we can say that heated jackets are a testament to the fusion of technology and fashion as they offer a practical solution to cold weather woes.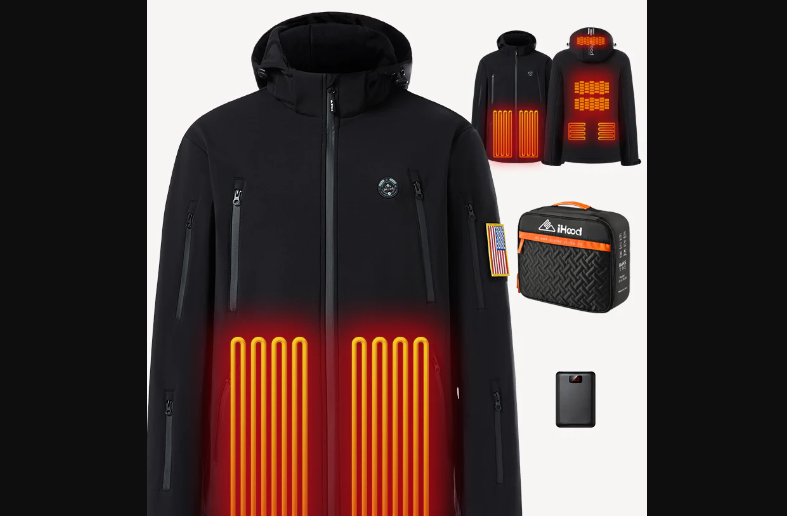 Advantages and Uses of Heated Jackets
Heated jackets have successfully brought advancement in the way we experience the cold in winter as they offer a variety of advantages that result in declaring them as a perfectly practical piece of equipment for cold weather. Here are a few of the key advantages provided by a battery-heated jacket:
Rapid Warming: The most common advantage of a heated jacket is that it provides instant warmth whether you are working outside in cold weather or waiting at a bus stop. The present heating elements in these jackets work by quickly warming you up and providing an extra layer of comfort by preventing the risk of shivering.
Unrestricted Movement: The need for multiple layers has been eliminated because of heated jackets. In this way, you will feel free to move without feeling weighed down because of heavy clothing. You will get mobility and comfort because of the efficient insulation and slim design of heating jackets.
Personalized Temperature Control: All the heated jackets allow users to adjust the heat settings like low, medium or high. With the help of this customization, you can easily set the warmth according to your needs and the external temperature. The amazing fact is that you will easily get used to the changing conditions without constantly removing and adding layers.
Ideal for Daily Commutes: It will be a chili ordeal to commute during the winter season. Heated jackets act as a game changer for the people who have to face cold mornings or long commutes. A very comfortable solution to keep warm while waiting for the bus or walking for work is offered by these jackets. 
Heated jackets have successfully found their way into a multitude of scenarios. These garments offer a versatile solution for staying warm whether you are an outdoors enthusiast or a professional in different fields. Here are some of the applications of heated jackets:
Outdoor Adventures: Heated jackets are best for outdoor adventures whether you're planning for hiking, skiing or just want to enjoy the winter hike. They will provide a rapid warming effect and enhance your outdoor adventure experience.
Winter Sports: You will find heated jackets, your best and most reliable friend for snowboarders, snowmobilers, or skiers. These heated jackets will keep athletes warm and avoid the bulkiness of traditional layers.
Camping & Hunting : The people who love hunting and camping, find heated jackets their companion as they feel instant warmth and can also control the heat output easily. You will remain toasty in the wilderness without facing the noisy insulation.
Medical Applications: Heated jackets also have medical applications as they are best for helping patients maintain their optimal body temperature during surgeries.
Choose a Heated Jacket That's Right For You
Heated jackets have successfully gained the position of a winter wardrobe essential that offers warmth and comfort. It's important to know how you can choose the best-heated jacket for men:
● The important step is to go ahead with the right size. You will find the best heated jackets in a variety of sizes and it is important to make sure that the selected jacket fits you well and doesn't cause any discomfort.
● It's important to consider the style and purpose of getting a heated jacket. You will have the opportunity to choose a heated jacket of any style ranging from urban chic to rugged outdoor design.
● Don't forget to pay attention to the available temperature settings that allow you to customize the warmth according to the condition of the weather.
● Battery life of a heated jacket is the most important thing to consider. It is suggested to go ahead with a longer-lasting battery if you want to wear it for a long period.
Now, it's time to discuss how a person can choose the best-heated jackets and can enjoy the warming effect even in cold weather. Here are the steps that you can follow to get the perfect heated jacket:
● First of all, you have to pay tension to the features that you want to be in your heated jacket. It is suggested to focus on the battery life, durability, and heating performance.
● If you want to get the best heated jacket then it's important to compare different brands. This is because sometimes the brand that is not well known offers great quality heated jackets as compared to the known brands.
● Don't forget to keep an eye on the available seasonal discounts and sales that result in saving you a significant amount of money.
● Make sure that the heated jacket men select comes with a warranty so that if you face any kind of issue you can contact the particular platform.
Use and Care For Your Heated Jacket
It is a straightforward way to use a heated jacket for staying warm in chilly weather. These practical equipment are designed by keeping in mind the easiness of people and also provide them simple controls. Hair at the list of basic guidelines that a person must know regarding uses of heated jacket:
Turning Heating On/Off: Most of the heated jackets have a power button to turn the heating off and on. It is suggested to make sure that the power button is turned off before you wear the jacket so that its better life can be conserved.
Temperature Control: Users are given the great benefit of multiple temperature settings like they can go ahead with the low, medium, or high temperature according to their needs. You can try different heat levels to find out the one that suits you best.
Battery Management: Every heated jacket comes with a rechargeable battery pack and it is important to manage it effectively if you want continuous warmth. Before wearing the heated jacket make sure that it is fully charged and also carry an extra battery heated jacket if you have to wear the jacket for a long period.
Safety Precautions: In addition to getting benefits from heated jackets, it is important to follow some safety precautions. Turn off the heating elements when you are not wearing the jacket. Try to store the battery heated jacket separately and be careful while using the jacket around the water to keep the electrical components away from damage.
It's important to understand that a heated jacket is not only winter equipment but is a reliable companion in cold weather that can last for years if used under care. By taking good care of the heated jacket you will not only ensure its perfect performance but it will also result in enhancing the longevity of the jacket.
Here are some of the factors that you can consider to extend the life of your heated jacket:
● If you want to enhance the life period of your heated jacket then it's important to regularly clean the jacket for the results and remove dirt, salt, and grime from it.
● There is a great chance that your heated jacket gets sweaty easily there so it's important to properly clean it so that hygiene can be maintained.
● The electrical equipment used in the heated jacket is very sensitive to damage from excessive heat, chemicals, and moisture. Make sure they are clean before you wear the jacket.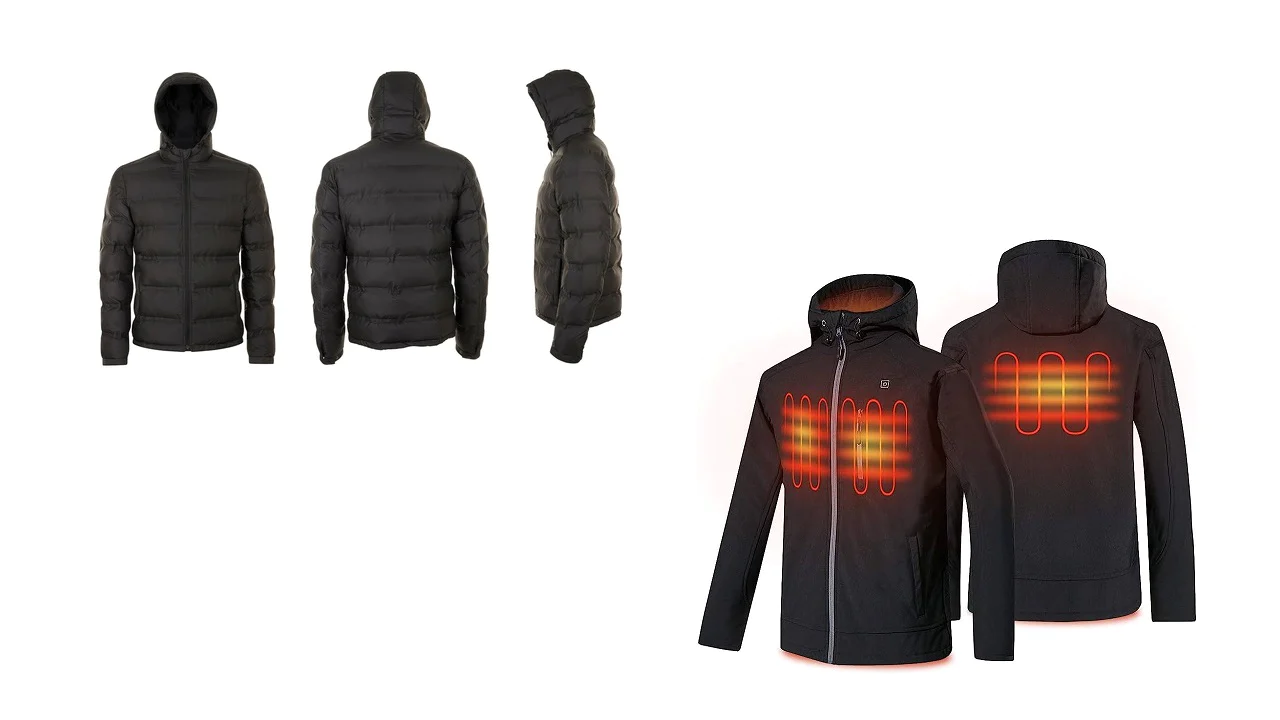 Match With Fashion: Tips for Wearing a Heated Jacket
Here are the tips that you can follow to make the most of this innovative garment and ensure a comfortable experience.
● It's important to know that the heated jacket women will work best when used under the light base layer. This layer will result in distributing the heat evenly throughout your body.
● If you want optimal heat distribution then it's important to ensure a proper fit. The electrical equipment will make better body contact because of the snug fit.
● You will be aware of the temperature control present in the heated jacket. It is suggested to experiment with different temperature controls so that you can find the one that suits your needs the best.
● If you want to keep your heated jacket away from damage and wearing equipment, it is suggested to take full care of it and pay attention to regular maintenance.
Heated jackets are a convenient way to keep your body warm in cold weather but it's important to consider the precautions and safety measures to take full benefit of a heated jacket. Here are a few of the factors that you must keep in mind:
● Before using a heated jacket, it is suggested to read the manufacturer's instructions so that you can get details regarding the usage, care, and safety of the jacket.
● Rechargeable batteries are used in heated jackets. It is important to use the batteries that are suggested by the manufacturer to avoid any kind of issue.
● It is important to inspect the heated jacket regularly so that if there is any issue then you will come to know about it before it gets bad.
● When you are not using your heated second then try to store it at a perfect place where it doesn't get damaged
● When the heated jacket is not in use it is suggested to turn the power button off to prevent overheating.
A heated jacket acts as the perfect winter equipment as it offers instant warmth, enhanced mobility, and customizable comfort to the wearer. The things that make this essential an invaluable addition to your winter wardrobe are its durability and versatility. Hence they provide a position shield against the cold and ensure the best winter season experience.
Do Heated Jackets Need A Battery Pack?
Every heated jacket needs a battery pack so that the heating elements can be powered. These battery packs are rechargeable and can be connected to the jacket for necessary energy for generating heat.
Heating jackets are safe but only if are used as intended. Their design involves safety features so that overheating can be prevented and the designed materials are also not harmful to wear.
How To Wash My Heated Clothing?
For washing the heated clothing first of all you have to remove the battery pack and other electronic components. Most of the heated jackets are machine washable usually with cold water and mild detergent. Make sure you follow the care instructions while washing the heated clothing.
How Long Do Heated Jackets Last?
There are several factors upon which the lifespan of a heated jacket depends. These factors include the quality of the jacket frequency of use and most importantly how you maintain it. A heated jacket from a reputable brand and well cared for can last several years.
Can You Put A Heated Jacket In The Dryer?
It is not recommended to put a heated jacket in the dryer. This is because it will be harmful for the electrical components of the jacket to face the heat and mechanical action of the dryer. You can air dry the jacket or contact the manufacturer for further care instructions.