Heated Slippers for Men and Women With APP Control 7.4V 3000mAh Battery
$49.99 USD
$89.99
SAVE

$40.00
Unavailable
Holiday Sale, Save 45%OFF
Can't be combined with other discounts
---
Equipped with a high-capacity 7.4V CE/FCC certified battery, as opposed to the conventional 3.7V & 5V batteries, the iHood electric heated slippers promise extended warmth and functionality with a working time of up to 10 hours, swiftly heating the elements to a comforting 149°F within seconds. With two operation methods - an App Control and Button Control, it maximizes user convenience.
2 Operation Methods: App Control or Button Control.
Upgraded 360° Ring -Shaped Heating Zone
7.4V/2A 3000mah batteries
Work Time:Low 8-10H,Middle 5-6H, High 3-4H
100% Machine Washable
Ideal for Winter Activities and Gifts
Package List: A pair heated socks with batteries and accessories
Heated Slippers for Men and Women With APP Control 7.4V 3000mAh Battery - Women's 7-8 | Men's 5-6 is backordered and will ship as soon as it is back in stock.
---
Couldn't load pickup availability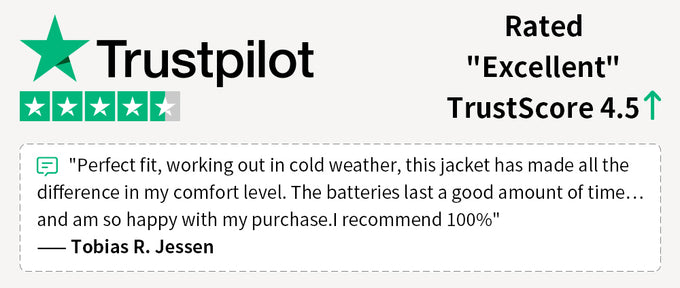 ---

Heating
Heating Element:
Heating Level:
LED Light:
360° Ring -Shaped
High
High: Three Cells
Medium
Medium: Two Cells
Low
Low: One Cell
Temperature:
High: 149°F ±3
Medium: 131°F ±3
Low: 113°F ±3
Battery
Battery Capacity:
Battery Weight:
Battery Input:
3000mAh (22.2Wh)
3.34oz
DC 8.4V/1A
Battery Runtime:
Battery Output:
High: 3-4 hrs
DC7.4V/2A
Medium: 5-6 hrs
Low: 8-10 hrs
General
Hip-length:
Length:
Shell:
Regular
Fit
100% nylon
Care:
Machine Wash & Hand Wash
Warranty
18-months on heating elements
1-Year on batteries
FAQ
Q1: How long does shipping take and how can I track my package?
A: We ship locally from the U.S., usually delivering within 4-6 business days. You can track your package here: https://www.ihoodwarm.com/apps/17TRACK
Q2: Are heated slippers safe?
A: Yes, Our heated slippers are safe. However, please ensure to not use the heating function until the slippers is completely dry.
Q3: Can I wash the heated slippers?
A: Hand washable or machine washable. If machine washing, please use a laundry bag (not included) to prevent the washing machine from damaging the cable. Please dry naturally, do not use the dryer.
Q4: Can I take a heated slippers on a plane?
A: Yes, The battery is TSA free. Both the battery and the heated slippers can be taken on the plane. However, please note that if you need to check in the heated slippers, remember to take out the battery and carry it with you. Generally, airlines do not allow battery pack to be checked in.
Q5: Can I wear a heated slippers on an airplane?
A: Yes, both our heated slippers and battery can be taken on the plane. Generally, you can use its heating function on the plane. However, you should always follow the specific guidelines and requirements of the airline.
Q6: What battery pack for heated slippers?
A: To ensure better results and a longer service life of the heated slippers. Please use the output:7.4V2A batteries
Q7: How to turn on heated slippers?
A: Electric slippers are equipped with a smart APP, You Can download the app then control the slippers via your phone. Also you can adjust the temperature via the button directly on the slippers when your phone is not beside.
Q8: Are heated slippers worth it?
A: If you live in an area where the autumn and winter seasons are quite cold, Or you always feel your feet cold in winter, It can provide you with additional warmth, helping you resist the cold.
Q9: How long does the heated slippers last?
A: Low_8-10H . Medium_5-6 hrs . High_3-4H